Hague Apostille
A Hague Apostille is the certificate attests the authenticity of the signature on the document according to the Hauge Convention.
The Convention aims to streamline and simplify the legalization of documents among the 115 signatory countries, allowing for the mutual recognition of Brazilian documents abroad and foreign documents in Brazil.
The certification, on a large seal, is placed on the back of the document.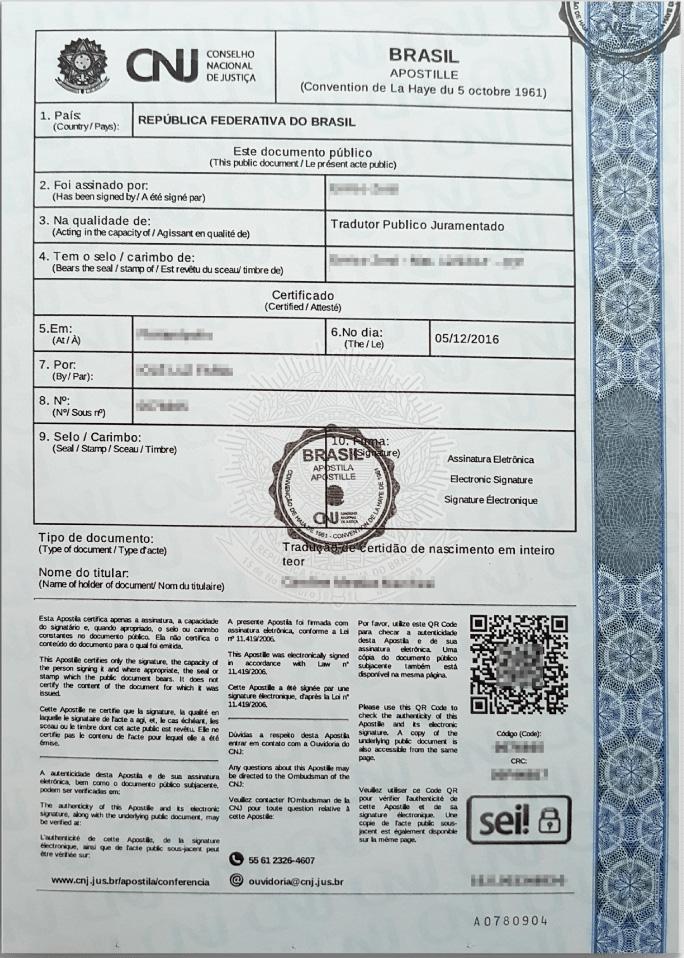 Frequently Asked Questions about the Hague Apostille
Signatory countries
of the Hauge Convention
Albania
Andorra
Antigua and Barbuda
Argentina
Armenia
Australia
Austria
Azerbaijan
Bahamas
Bahrain
Barbados
Belarus
Belgium
Belize
Bolivia
Bosnia and Herzegovina
Botswana
Brazil
Brunei
Bulgaria
Burkina Faso
Cape Verde
Chile
Colombia
Cook Islands
Costa Rica
Croatia
Cyprus
Czech Republic
Denmark
Dominica
Dominican Republic
Ecuador
El Salvador
Estonia
Fiji
Finland
France
Georgia
Germany
Granada
Greece
Guatemala
Honduras
Hong Kong
Hungary
Iceland
India
Ireland
Israel
Italy
Japan
Kazakhstan
Kirgizstan
Latvia
Lesotho
Liberia
Liechtenstein
Lithuania
Luxemburg
Macau
Malaysia
Malta
Marshal Islands
Mauritius
Mexico
Moldavia
Monaco
Mongolia
Montenegro
Morocco
Namibia
Netherlands
New Zealand
Nicaragua
Niue
North Macedonia
Norway
Oman
Panama
Paraguay
Peru
Poland
Portugal
Romania
Russia
Saint Kitts and Nevis
Saint Lucia
Saint Vincent and the Grenadines
Samoa
San Marino
São Tomé and Príncipe
Serbia
Seychelles
Slovakia
Slovenia
South Africa
South Korea
Spain
Suriname
Swaziland
Sweden
Switzerland
Thailand
Tonga
Trinidad and Tobago
Tunisia
Turkey
Ukraine
United Kingdom
United States
Uruguay
Uzbekistan
Vanuatu
Venezuela
Need another service?
Discover the other language services that Traduzca offers.